November 30, 2009
6:08 pm
The Christmas Creep.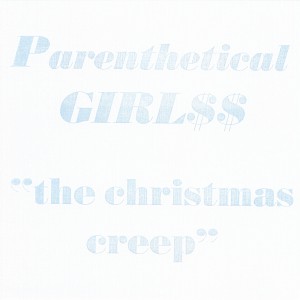 UPDATE: The 7″s got a little behind schedule, but pre-orders have now nearly all been mailed out. Thank you for your patience! We still have a few left, but they're going fast!

So it's come to this: one more Christmas. Let it be known that no one was more disappointed with last year's conspicuous absence of a Parenthetical Girls Christmas release than Parenthetical Girls themselves—if only because we were alone in noticing. Allow us to quietly atone with this year's entry in the Parenthetical Girls Christmas Archives: The Christmas Creep single. Our Double-A-Side Christmas Gift To You:
"Thank God It's Not Christmas"—Inspired by two discreet stone classics from the Mael's bloated back catalogue, our rendition of Kimono My House's resolutely anti-holiday anthem attempts to shoehorn the song into the style latter-day Sparks records—specifically, 1983's In Outer Space. We didn't say it was a good idea.
"Flowers For Albion"—A cheery original about the Christmas Blitz of 1940.
Furthermore, we're pressing an extremely limited run of 7″s for the occasion this year, primarily as Christmas gifts for our friends and family (surprise, everyone!)—but we've decided to release a scant number of them publicly (150, specifically) to help defray some of the production costs. You're more than welcome to just download the tracks above for free of course, but in the event that you might want to own a little piece of the magic, here's the deal: The record will be housed in a fancy, letter-pressed sleeve handprinted by Zac, and will shipped just as soon as we get the vinyl back from the plant—on approximately December 15th… (hopefully) just in time for Christmas. Pre-order below to ensure that you get a copy before they inevitably sell out. Because Christmas is nothing without commerce.
Happiest of Holidays,
(((GRRRLS)))